Fully Integrated
Text Messages work exactly how you would hope they would! All messages sent to both your staff and clients can be delivered as an email, a text message or both! Clients and staff can respond to text messages too and their response is seamlessly added to the conversation feed.

Customizable
Time To Pet makes it super easy to pick and choose which clients receive texts, which receive emails and which get both. You can also customize which types of messages are sent as text messages as well!
Picture Messages
Time To Pet supports picture messages too! Want to text your client a cute picture of their dog? It's as easy as sending any type of message!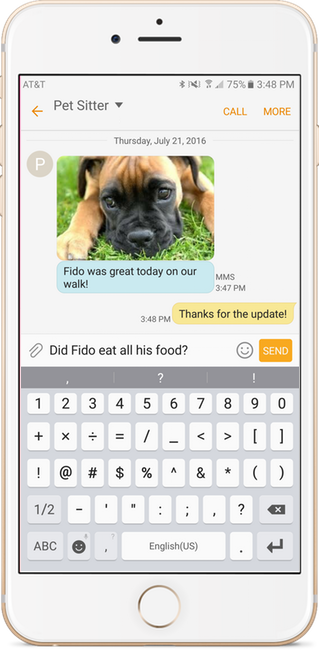 Private
All text messages in Time To Pet are sent to and from your company texting-only number. That means your staff don't need to ever share their phone numbers and clients won't ever text your staff directly by accident.
Want to See More?
We can you give you a full demo of Time To Pet, absolutely free.