Announcing Time To Pet's New Integration with Zapier: Boosting Efficiency for Pet Care Businesses!
Running a pet sitting or dog walking business is an incredibly rewarding experience, but it sure takes a lot of time and a lot of hard work. As your business grows, you may find yourself using several different tools to optimize your company. Today, we are thrilled to announce that Time To Pet has officially launched our Zapier integration! Zapier is the ultimate workflow automation tool that connects thousands of independent apps. With this new integration, you'll be able to connect your tools, streamline your operations, save time, and focus on what truly matters – providing exceptional care for your furry clients and their pet parents!

What is Zapier and How Can It Help Your Business?
If you are not familiar with Zapier, it is a powerful platform that connects different web applications, allowing them to work together seamlessly. In simple terms, it automates repetitive tasks by creating workflows called "Zaps" that trigger actions across multiple apps. For example - when you add a new client to your Time To Pet account (the trigger), you can immediately (and automatically) send an email to your Onboarding team (the action) and add the client to your CRM (another action).
Did you hire a new staff member? Instead of manually sending them your training materials, you can automate the process through Zapier! Just create a new "Zap" and you can create actions like send an email, add to your mailing list, and much more.
By automating repetitive tasks and streamlining workflows, your pet care business can save time, make fewer mistakes, ensure seamless communication, and focus on providing exceptional care to your clients.
Check out Zapier's website to learn more about how it works and all of the amazing possibilities for your business.
Zapier Connects to 5000+ Web Applications!
Zapier is the industry leading workflow automation platform. There are thousands of web applications that connect directly with Zapier including Gmail, Mailchimp, Slack, Instagram, Dropbox, and thousands more. Zapier offers a vast ecosystem waiting for you to explore ways to automate your business.
Time To Pet is incredibly excited to join such great company. And we are just getting started. Be on the lookout for new triggers and new functionality built into our Zapier integration soon!
How to Get Started?
Integrating with Zapier is as easy as can be and you can connect your Time To Pet account to Zapier today! To get started, check out our help doc with all of the information.
To utilize our Zapier integration, you do first need a Zapier account. Zapier offers both free accounts (with a limited number of tasks per month) and paid plans (that give you substantially more tasks).
After logging into Zapier, you can create a New Zap. Just search for "Time To Pet" in your Zapier Dashboard.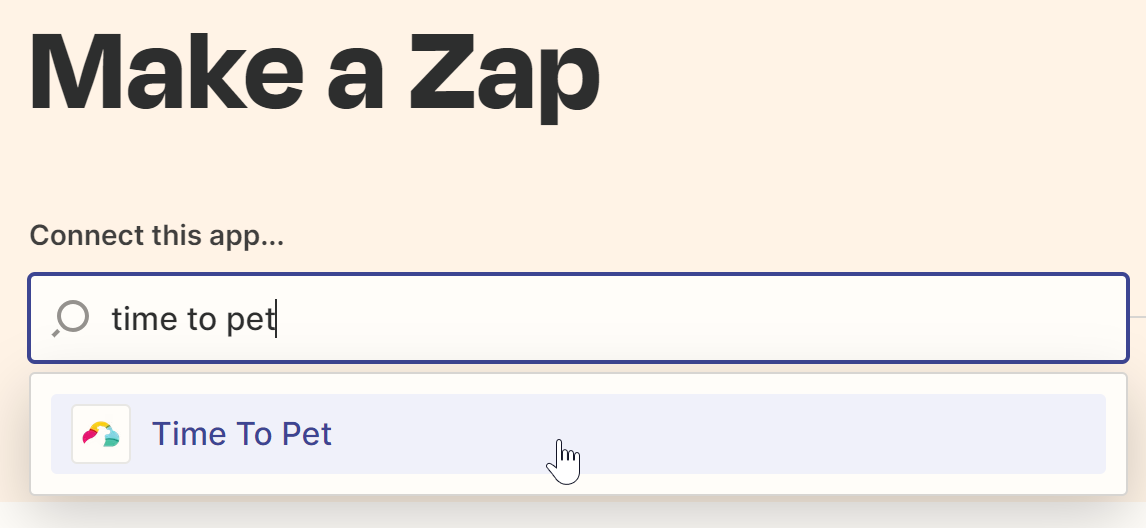 You can now create your actions, test your Zap, and sit back and relax! It's as simple as that.