The lighter side of working with pets.
We love everything about pet sitting, dog walking, and pet care — the good, the bad, and the funny! Our new Tails and Tales Series will feature business owners talking about everything that goes into running a pet care company. It will range from funny stories to complete nightmare situations and everything in between. It will also offer practical advice to people thinking about starting a pet care business, and to those who have already started, but could use a little extra guidance. We hope this series inspires you and reminds you of why being in the pet business is pretty much the greatest — even when it's loud, messy and stressful! You'll see.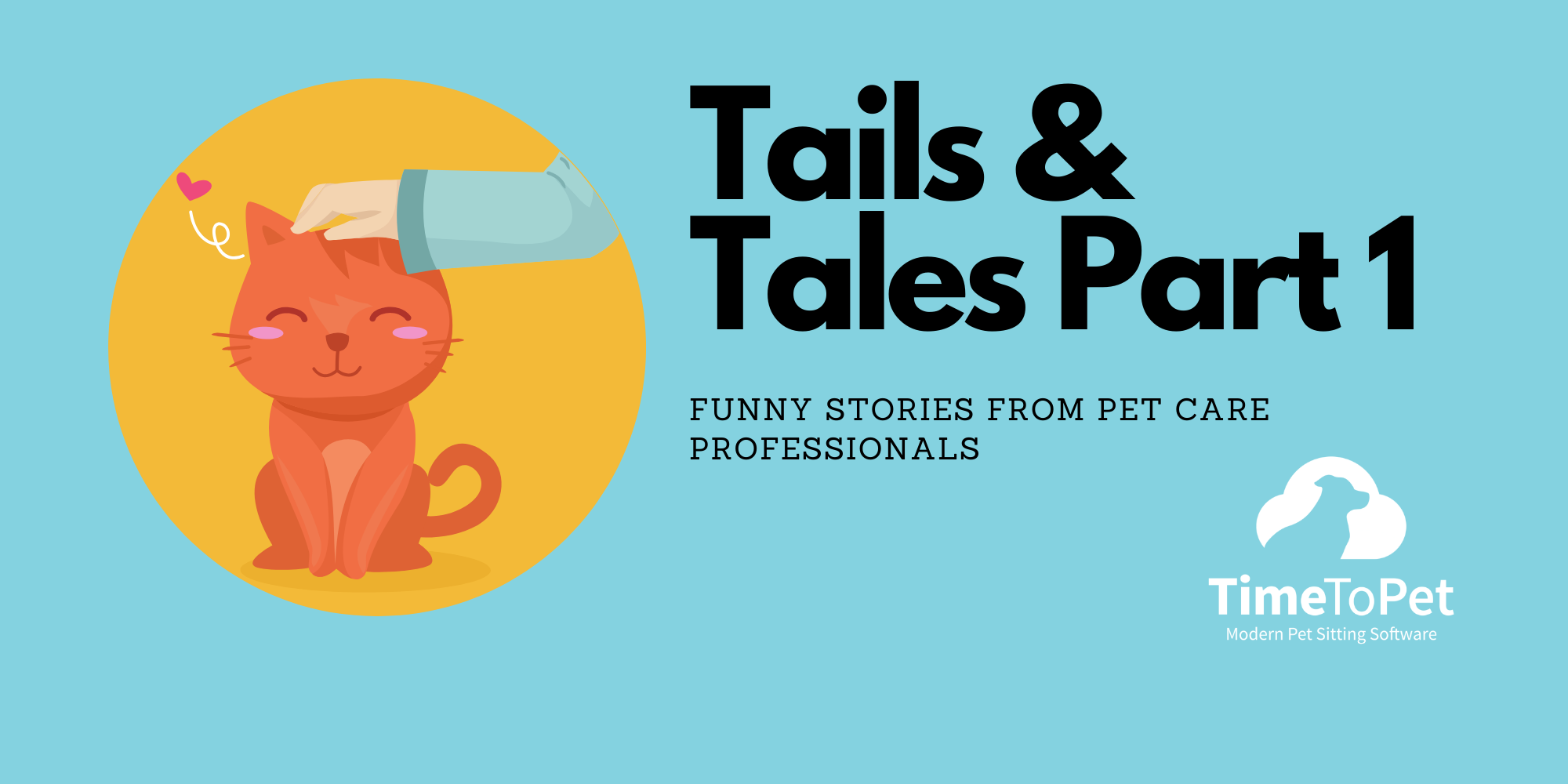 For this first installment of our new Tails and Tales Series, we've gathered some funny and quirky stories from two Time To Pet users and one Time To Pet employee!
A Very-Enthusiastic New Client!
Elesha owns and runs Paws N Tails Pet Services in the Dallas, Texas area. Paws N Tails Pet Services is a family-run, woman-led, and fully insured business that provides compassionate and professional pet care! Elesha, of course, loves all her clients but received a little extra love on a meet and greet with a new pup!
Do you have any funny/quirky stories you want to share?
"Well, here goes: This happened 3 weeks ago. I was on a meet and greet with a new client, and it was for a very enthusiastic pit bull mix. He LOVES to jump up on new people — testing boundaries. He knows he's not supposed to, and supposedly doesn't with family and people he knows well.
Anyway, right out of the gate, he jumps up on me in my face and in my teeth. That was jarring. The owner apologized, and we continued to have a good meeting. I got over it, and we went outside. I wanted to see how he reacted to things out there, where he could run freely.
He had a ball and was playfully trying to keep me from taking it. We had fun for a minute, but as I bent over to pet him, I didn't see how close he was, and he jumped up, smacked me in the nose— resulting in a massive nose bleed! I bled all over my shirt, the back porch, the client's floor, you name it. I, of course, cried like a little baby and was so embarrassed. The client was too, apologizing profusely, and doctoring my nose. I thought at first he broke my nose, but that wasn't the case, thank God. It has since healed."
The Key or the Crowbar?
Jessica Diamond owns and operates Platinum Leash Pet Care Services in Portland, OR. Jessica along with her husband, Aaron, offers a wide range of services for all types of pets.
Do you have any funny/quirky stories you want to share?
"In my first month owning Platinum Leash, I received a client inquiry asking us to pet sit for two husky pups. I found the perfect contractor for the job. She met with the clients, and when the time came for the pet sitting, my contractor arrived, but the key to the client's home was not in the lockbox.
The contractor called me in a panic, and the client was not answering their phone. By this time, hours had gone by. The dogs were howling in the window, and not one neighbor had a key. I called every locksmith I could find, but nobody was going to let a random lady into an empty home. I drove to the client's house with a crowbar, expecting to have to break a window and hoping that I wouldn't get arrested in the process.
When I arrived, sure enough, the dogs were excited and ready to eat. Just as I was about to bust the window, a man pulls into the driveway. He was redoing the client's kitchen, and he had taken the key. Needless to say, everyone was happy and healthy when we finally got in. The pups were anxious to go potty — it was a crash course in business ownership."
Skunks and Hurricanes
Before Katie Gingrich was a Customer Support Expert with Time To Pet, she owned her own pet care company in Austin, TX. With years of on the job experience, Katie is incredibly well-suited to provide Time To Pet clients with exceptional support! Mostly because she knows all the hard work that goes into running a pet sitting and dog walking company.
Do you have any funny/quirky stories you want to share?
"Before I started carrying band-aids with me, I had a small accident where the large dog I was walking spotted a skunk waddling through a front yard before I did. Luckily I had a stronghold on the leash, but I didn't anticipate having a small tree root by my foot — down I went!
I scraped my hand on the sidewalk pretty severely, and it was bleeding. All I had on me to use was a poop bag as a temporary bandage. I wrapped my hand with one bag and then wrapped my entire hand with another bag for our walk home, so I didn't bleed anywhere.
It turns out that a neighbor saw me walking into the client's house with "a full bag of poop" and texted my client that I was bringing poop in the house! Luckily my client knew I always put the full poop bags outside in their trash can. I left a visit report for the client, letting them know about our adventure, so they knew it wasn't true, but the client and I had a forever running joke about making sure to leave the poop outside!
Another story is the time I was pet sitting during Hurricane Harvey. We weren't directly affected here in Austin, but my clients were on the coast attending a funeral, and they couldn't get home. What started as a four-day pet sitting job turned into an almost two-week pet sitting job.
It was raining and windy here in Austin, and the ground had become complete mush at this client's house. When I showed up to take care of their dogs one morning, their ENTIRE back fence had fallen, and their neighbor's dog was in the yard! I walked my client's dogs in the front yard (since the neighbor dog was contained in our yard). I then put the dogs back in the house and walked the neighbor's dog home (who became a client of ours after this!)
I called their handyman who thankfully, was available, and he came over. Together we pushed the fence back up, and he put up some temporary braces. We also installed some snow fencing on the inside of the fence just in case we needed it later. My clients were so thankful, and they sang our praises in that neighborhood, which went on to become one of our busiest communities! Just goes to show that going above and beyond can set you way ahead of the competition and word of mouth referrals are invaluable."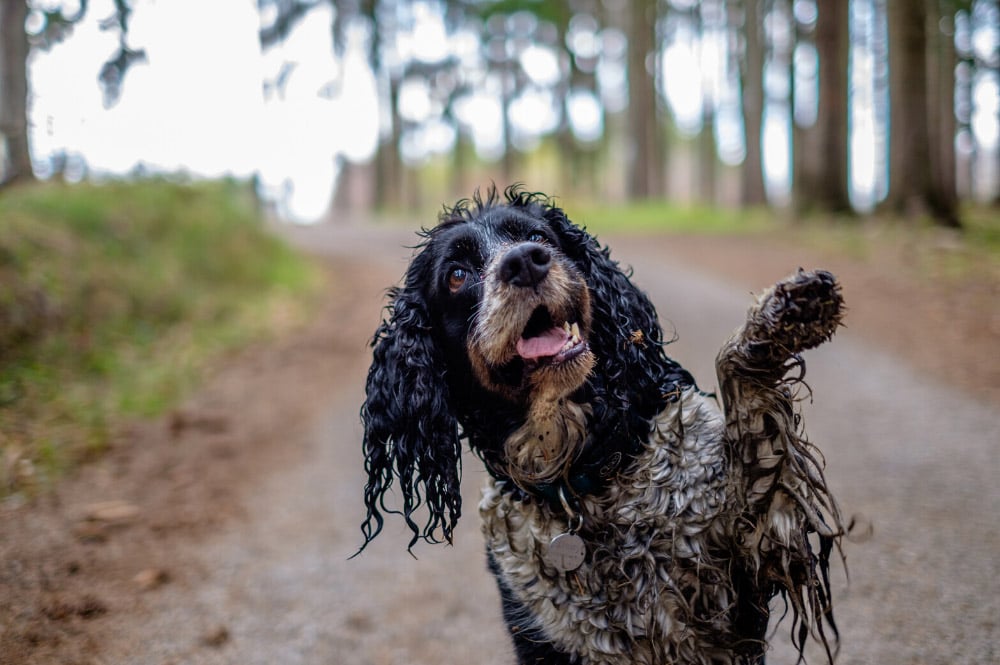 Cops and More Skunks
Before co-founding Time To Pet, Mike Grenier owned a pet sitting and dog walking business with his wife. We believe that it's important to combine real-world experience with incredibly gifted software developers when building a pet sitting software business. Mike has lots of experience and quite a few quirky stories. Here are two.
Do you have any funny/quirky stories you want to share?
"Whenever starting services with a new client, you are always a little nervous walking in the front door. The Meet & Greet is a great way to meet your customers and their pets, but when the pet parents are gone, things can be different. Luckily, most of our experiences were really awesome. This one was awesome, too, but things got a little hairy after locking up.
I had a very early morning visit with two dogs and a cat. As expected, the gang was still asleep when I got there but gave me a big stretch as I got inside. We hurried out for a bathroom break, then everyone ate breakfast and got some playtime in. A very regular visit for new customers and I locked up.
Now it's important to note that in our community, many people will let the local police department know when they are traveling, and the police will be sure to keep an extra eye on the house. In this case, our customer did that but forgot to mention that a pet sitter will be coming and going.
As I locked the front door and turned around, there were two very suspicious police offers walking up the pathway, asking who I was and what I was doing. Being an early morning visit, I was a little disheveled, had not yet had a cup of coffee, and my hair was sticking up on one side.
I was startled and fumbled over my words while mentioning I was their pet sitter and could show them our business card. Of course, I had given out my last business card a few days earlier. Luckily, I was just about to complete the visit using our Time To Pet staff app, and I was able to show the police officers all of the information and the instructions the pet parents had left. I was also able to very quickly call the pet parents, and they were able to vouch for me. It was a nerve-racking few minutes, but something we joke about often now.
Another story involves a couple of older dogs who lived on a few acres in a rural area in Central Texas. We had been doing visits with these clients for a few years and had a great routine: an early morning visit, two afternoon visits, and one just before bedtime. On one bedtime visit, we had gone outside and were just getting ready to head in when we heard something off in the distance.
The adventurous dog went to see what it was as I grabbed my flashlight and joined in. All of a sudden, I heard something really strange, and the dog came back with a very peculiar smell. The noise was a skunk and the dog had gotten sprayed. I immediately called the owner and they asked if we would give the dog a quick bath as this has happened before. No problem at all, but if you have ever had a dog get sprayed by a skunk, you know it takes a lot of baths to fully work.
The rest of our visits included special baths with special shampoo. Not to mention all of the showers I had to take to get rid of the smell off me. I'll always remember that smell…"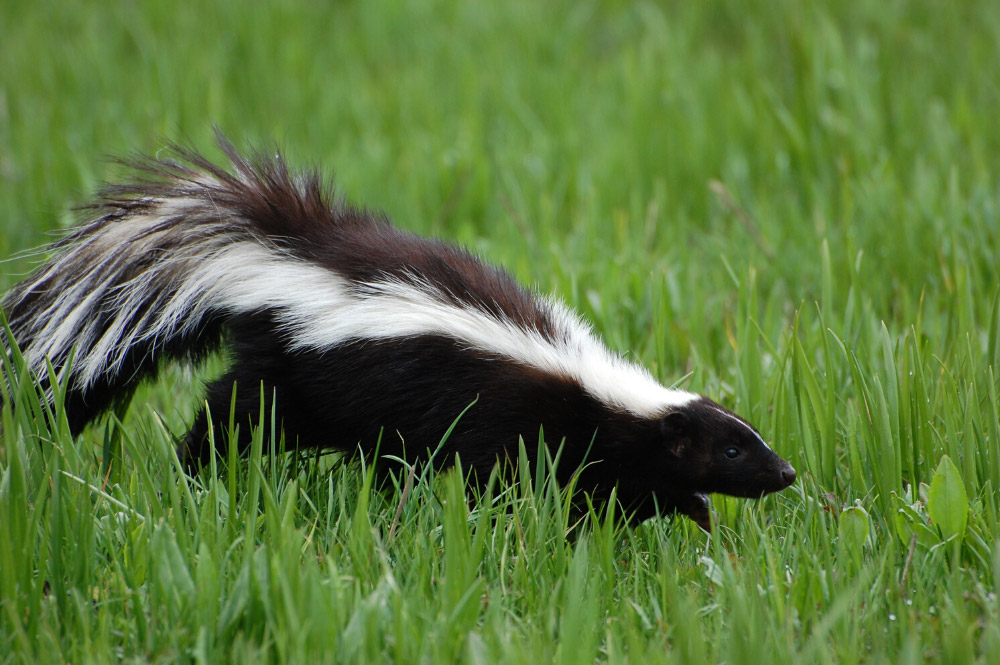 But That's Why We Love it!
It's not always glamorous, and rarely easy, but taking care of pets is one of the most rewarding and exciting businesses you can be part of. After all, those muddy feet, bloody noses, and misplaced keys are all part of the fun! They make for great stories too. And it's all worth it when the result is a happy customer and a wagging tail!
That's our first Tails and Tales post. Big thank you to Elesha, Jessica, Mike, and Katie!
If you would like to participate in one of our Client Spotlights or be part of our Tails and Tales series, send a quick email to support@timetopet.com. Right now, we are only featuring Time To Pet users. Thank You!
Happy Sitting!