Send Videos to Pet Parents via Time To Pet!
We are thrilled to announce the release of our latest feature - Video Support in the Time To Pet App! You and your team can now record and send short videos directly to pet parents when completing services or as a standard message via the conversation feed!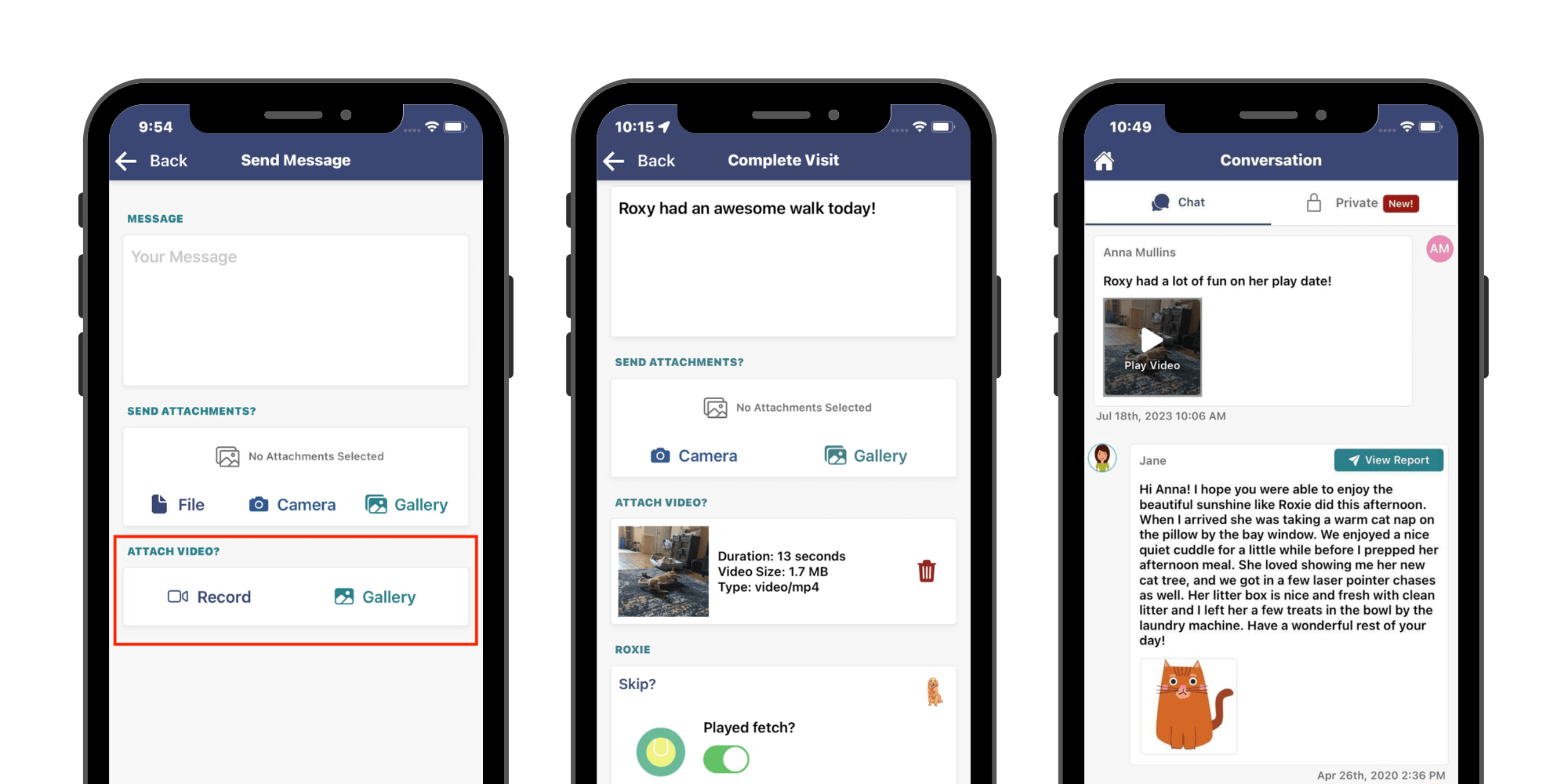 We've been beta testing Videos for the past few weeks and the reaction has been incredible! Our customers have sent nearly 1000 cute videos featuring dogs, cats, snakes, rabbits, and all types of pets! Videos are sure to be a huge addition to your business and how you communicate with your clients, providing a much more personalized and engaging experience when they can't be with their pets.
To access the Video Tools on your Time To Pet App, be sure to update to the most recent version (at least 3.3.0) and then logout and log back in.
Why Video?
First off - Videos have been one of the most requested features our customers make. In today's digital age, video has become an incredibly powerful medium for communication. Videos allow us to share special moments and connect with our customers on a more personal level, that words or pictures alone cannot. We believe that incorporating video into the Time To Pet App will greatly enhance the relationship between pet care professionals and their pet parent clients.
How Does it Work?
Our new Video Tool seamlessly integrates into the existing Time To Pet App, making it easy for you to create and share videos with your clients. Whether you want to provide updates on a pet's behavior, showcase fun activities during a walk, or simply send a heartfelt message, the Video Tool enables you to do so effortlessly. When sending a post visit report, you'll notice a new section for Videos. You can either record a new video or attach one from your gallery.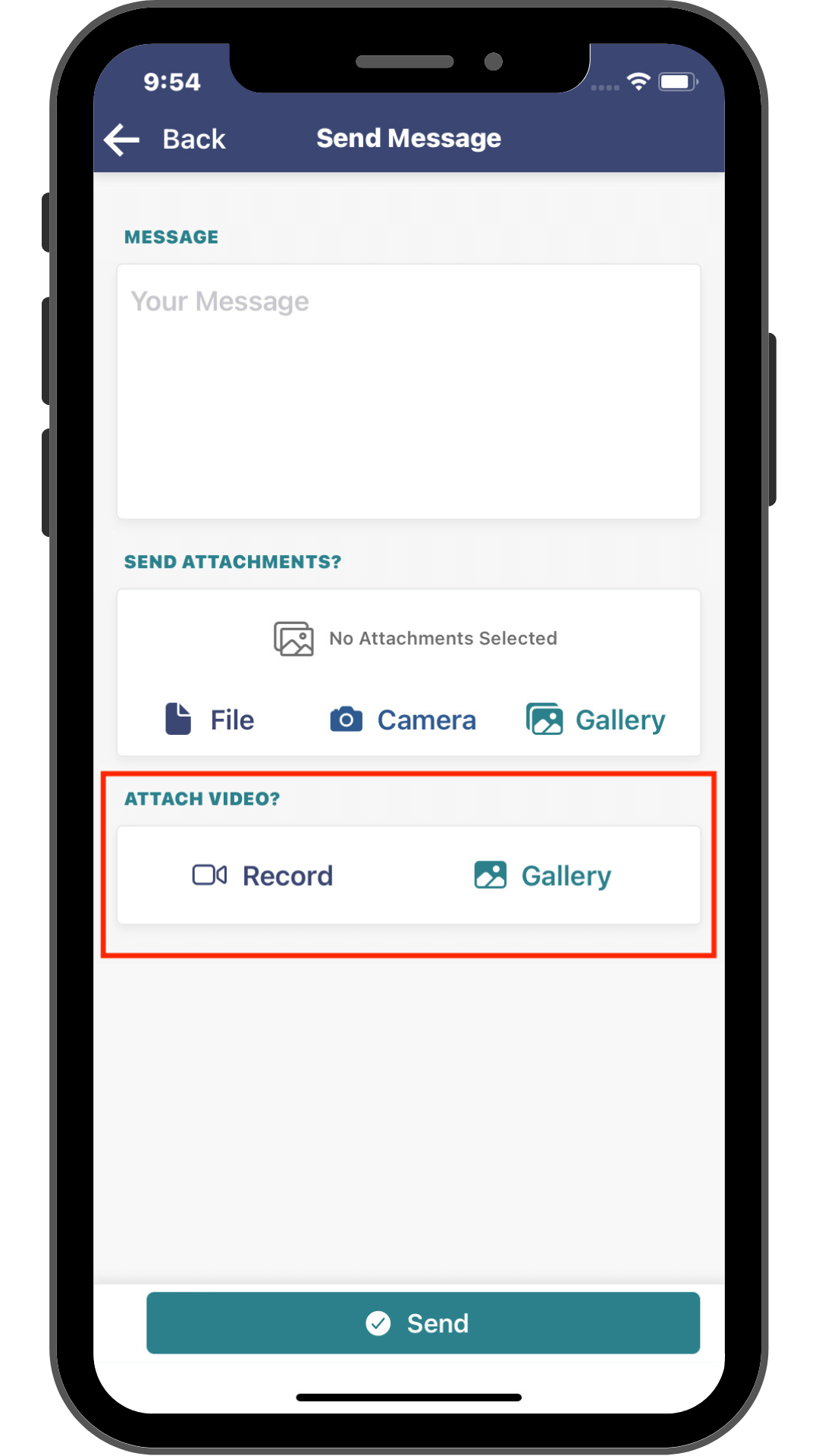 You can also record or attach videos directly to a standard message from the pet parents' conversation feed.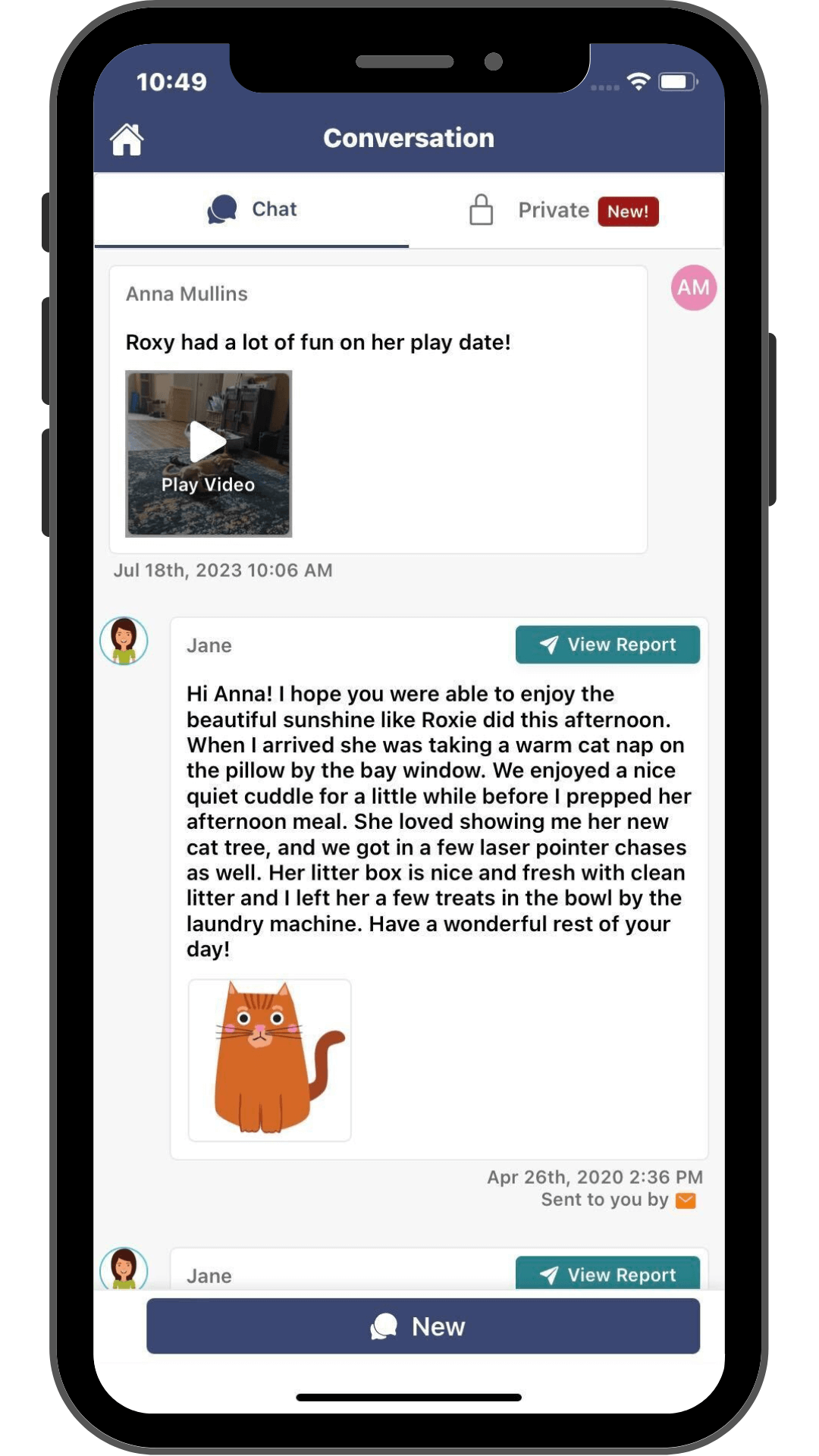 Videos are currently limited to 20 seconds. If you record your video directly from the Time To Pet, the recording will automatically end at 20 seconds. If you are uploading a video from your gallery, be sure to trim the video to 20 seconds or less before uploading. You will see a friendly error message if you try and upload a video longer than 20 seconds.
Benefits for Pet Care Businesses
The Video Tool offers numerous benefits for pet care professionals. Just a few of those are:
Enhanced Communication: Videos allow you to convey information and emotions more effectively, strengthening your connection with pet parent clients. You can record a short video for new clients introducing them to you and your business. This a great way to demonstrate your professionalism and communication skills!
Personalized Updates: Share real-time updates on a pet's well-being, showcasing their happiness and comfort under your care. Capturing those goofy moments and sharing them with pet parents is such a great experience!
Improved Client Satisfaction: By offering a more engaging and interactive experience, you can increase client satisfaction and loyalty with your business. Happy clients are more likely to leave you great feedback and refer you to their friends!
Differentiation: Stand out from competitors by utilizing cutting-edge technology to provide a unique and innovative service!
Benefits for Your Clients
Pet Parents will also enjoy several advantages with the Video Tool:
Peace of Mind: Seeing their pets happy and well-cared for in real-time provides clients with peace of mind while they are away. It's also a great reminder of how amazing their pet care pro is!
Increased Engagement: Videos create a more interactive experience, allowing clients to feel more connected to their pets even when they can't be there physically.
Memorable Moments: Clients can capture and cherish special moments with their pets through videos, creating lasting memories that they can view again and again in the future!
Get Started Today!
Videos are available immediately to our customers! If you do not currently see the video functionality of your Time To Pet App, be sure you have the most recent version installed (at least 3.3.0). You may also need to logout and log back into the App to access Videos.
If you haven't already, make sure to check out our help documentation here for detailed instructions on how to use the Video Tool.
If you have any questions or need assistance, our support team is always here to help. Enjoy recording all of those amazing moments!