Up next in our Client Spotlight series is Cara Armour and her team at Active Paws! Active Paws covers areas just outside of Boston, MA including Watertown, Waltham and Belmont! Founded in 2003 — Active Paws is dedicated to treating each animal in their care as their own by maintaining a healthy lifestyle to ensure a happy and healthy pet! Active Paws is the proud winner of the 2009 Pet Sitter's International Pet Sitter of the Year Award and has an unmatched commitment to training their staff in pet first aid and CPR through Pet Health Academy! Be sure to check out their website and like them on Facebook!
What caused you to get into pet sitting?
In college, I had worked my way up to store manager of a national sporting good chain but was low on the list to become the next district manager given that I was the youngest and newest store manager. I was 1 of 16 people in line so at the ripe age of 22 I had a career identity crisis. A fresh graduate from Boston University with a B.A. in a less than desirable degree (Sociology), I decided to make the best investment of my life; I used money given to me by my grandmother for graduation to open an IRA, to buy a puppy instead! What better way to spend life-long retirement right? It was the BEST decision of my life. Through that dog, a Boxer named Tank, I met my husband/business partner at a local dog park. I had met a dog walker there back in 2003 walking all these dogs and I flat out asked her if she was able to pay rent in Boston by what she did. She was a bit off kilter and ended up asking the dogs the question, then turned to me and said, "oh yeah I can".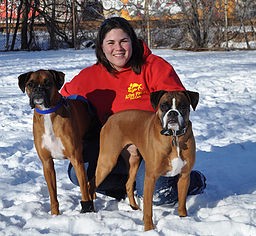 I was an entrepreneur at heart but didn't realize it until that moment. I had always mowed neighbor's lawns, pet sit neighbor's dogs and baby sat when I was younger. I essentially ran several of my own little enterprises but the idea of getting paid to walk someone else's dog blew my mind, my favorite thing to do was go to the dog park and this crazy lady was telling me I could pay my rent doing it? I all but ran to the nearest Borders Books and bought everything I could find about starting your own business and pet sitting, there was about 2 books on pet sitting business at that time and certainly nothing on the Internet. I was off and running in weeks. I still needed to pay rent at first so my then boyfriend, now husband was a carpenter but his boss suffered a debilitating accident at a job and thus had no work for he or his crew. That's when I somehow convinced my boyfriend from Northern Ireland who was wary of dogs, that he was going to walk dogs while I got a couple other jobs, ran the business and helped to walk dogs too until we could afford to live off it. He agreed to 6 months. Now it is 13 years and a ton of accolades including the highest industry award of Pet Sitter of the Year later. . .
What is the most fulfilling part of owning a pet sitting business?
Realizing that hundreds of people rely on you to care for their pets. I tell new clients we offer peace of mind, you can go to work and stress about everything else on your plate but your pet will not be one of them. We have come to walk/run/feed/exercise Fido while you do what you have to do. I love that, it keeps me going even when things get ruff.
What is the most challenging?
Staffing and learning when to say no. Finding good, reliable and trustworthy staff and learning boundaries to avoid burnout have been two of my biggest challenges!
Where do you see your business in 5 years?
On every corner. I used to have 15 staff but that was too big, instead I think having enough work to fill 6–8 walkers/sitters is manageable but it should be available in everyone's neighborhood. I would like to take my business model to other areas, cities and different states.
What has Time To Pet changed the most about how you run your business?
EFFICIENCY!!! We're like a machine now! I tried every software out there, trust me and they all required me to alter how I did business in order to work for my business. TTP allowed me the freedom to run my business how I want but BETTER! I am embarrassed I didn't sign up earlier and I even fought it in the beginning. I picked it apart and convinced myself it wouldn't work. Thanks to a friend and actually my mentee, James Calihan, I jumped in and when I look back at the time and money I wasted on managers, I cry.