Providing the best pet care on Tatooine, Luke DogWalker is up next in our Client Spotlight! In addition to the Tatooine location, Luke DogWalker also serves the great people living on the Upper West Side in Manhattan NY! Not only does Luke DogWalker have one of the best business names we've seen — they have some of the best dog walkers too. Owned and operated by Tony and Christina Harris, be sure to visit their website and check them out on Twitter and Facebook today! And as Luke DogWalker would say — May the PAWS be with you!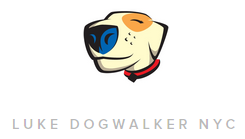 What caused you to get into pet sitting?
Back in 2009, after ten years in the advertising world, I found myself unemployed. The industry had begun to change and I was no longer enjoying the work. In my previous job, several coworkers had often brought their dogs into work and they would inevitably spend most of the day in my office. After I was laid off, these same coworkers asked if I wanted to walk their dogs until I landed on my feet. They were unhappy with their current walkers and noticed how their dogs gravitated to me. So in April of 2009 I started Luke DogWalker (although the name wouldn't emerge until July) with two clients, just as a means to pass the time. And by August of 2009, I had ten clients and had hired my first two employees. It was then that I realized spending my days with animals was so much more rewarding than life in an office.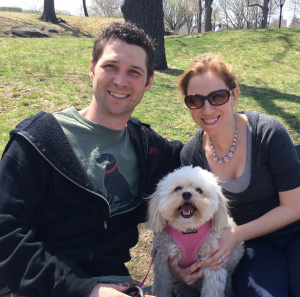 What is the most fulfilling part of owning a pet sitting business?
No matter how bad your day starts, when you open the door for that first pup, you forget about 99% of your problems. For that 30–60 minutes, we get to hang out with someone who loves us unconditionally and is always happy to see us. It's fascinating to watch puppies change from day to day; witnessing them develop their personalities, helping them learn commands and watching how quickly they go from tiny to massive. But the most fulfilling part is owning something which creates a positive and loving environment in the world… not many people can say that.
What is the most challenging?
Our recent struggles have involved finding great employees and keeping them. For many New Yorkers, dog walking feels like a stepping stone to something else. We encounter many artists who are looking for a side job to make ends meet, or people who are burned out in their career and want to try something new. And, unfortunately, the candidate pool is very shallow. There are few people who put an effort into writing a decent resume or cover letter and even fewer people who can show up to an interview on time. As an expanding company, finding the right people to represent our work ethic and values has been an eye opening experience and very telling about the work force in general.
Where do you see your business in 5 years?
We just had our six year anniversary in April, 2015 and we've had more growth in the last six months than the previous six years combined! We are enjoying this surge and are looking for ways to grow in the coming months. New York is an ever-changing city and people move around, especially as rent sky-rockets in certain areas. While I don't think the Upper West Side will ever be a "losing bet" many of our clients are moving to different parts of the city. If we want to continue to grow, we need to venture into other areas of Manhattan. The Upper East Side may be up next, or other areas like Washington Heights and Inwood. If we can successfully extend the borders of our service territory over the next 6–12 months then I believe that in the next 5 years we could have presence in nearly all of Manhattan. In fact, in five years we may even be able to get off the island and open chapters in other cities such as Chicago or San Francisco.
What has Time To Pet changed the most about how you run your business?
Time to Pet has given back some of the time which had been previously bogged down with administrative tasks: billing, collecting client information and revenue tracking. It's easily saved me 10–15 hours a week by combining several spreadsheets, calendars, documents and whatnot into one centralized location. It's also given me greater insight into my employee interaction with our clients and allows me to see issues that perhaps would have gone undetected in the past. I'd researched several other pet software companies before deciding to try out Time to Pet but I found that many only offered certain aspects of what I needed/wanted. Time to Pet was the first company I found which combined nearly all the features I was looking for under one product. It's been a great asset and the transition was seamless. I'd highly recommend TTP to any pet businesses out there. Plus Mike and Kyle have been very responsive and helpful from day one. It is truly a fantastic company and I wonder how I got along the first six years without them!