Our next Client Spotlight is on Katherine Dawtry and her company — While Away Dog Walking! Located just outside of New York City in Northern Westchester County — While Away provides exceptional pet care at affordable prices to the residents of Lewisboro, Katonah and Bedford. Katherine has built her business based on great service, thoroughness and a superior level of care! Her clients can expect a fantastic personal and professional service! Be sure to check out While Away Dog Walking more on their website and like them on Facebook too!
What caused you to get into pet sitting?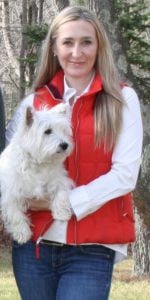 I accidentally got into this business many years ago while riding at a barn where many people started asking me to pet sit for them on the weekends. As word got around I found myself with a steady set of clients. I then quit my day job and became a full-time pet sitter!
What is the most fulfilling part of owning a pet sitting business?
Being outside every day and working with animals is food for the soul. Not to mention being your own boss!
What is the most challenging?
The most challenging thing for me is finding good people to help. I have a few independent contractors that work with me and they are wonderful! I just wish I could find carbon copies of them.
Where do you see your business in 5 years?
In five years I want to be exactly where I am today. Providing a quality dog walking service with great clients who hire us on a regular basis. After all the clients that use us on a regular weekly basis are our bread and butter.
What has Time To Pet changed the most about how you run your business?
TTP has made a huge impact on how I run my business. Many years ago I was a Pet Sitter and now I am a daily Dog Walker Monday through Friday . I used to spend hours and hours on the weekends scheduling, invoicing and tracking expenses. After the initial setup I now spend under an hour doing my schedule for the whole week. That's including invoicing all of my clients!
And if clients change their schedule, instead of waiting until I get home to figure it out eating into my personal time in the evenings I do everything on my iPhone in the car between dog walks. The customer support that the guys at TTP provide is unbeatable, whether it's a simple question or a meltdown over something you cannot figure out they are always there to help and guide. The Facebook page has also been a huge help with TTP clients discussing and offering help.