Helpful Coronavirus Related Resources for Dog Walkers and Pet Sitters — Updated January 11th, 2021
Update: The Small Business Administration resumed the Paycheck Protection Program on January 11th, 2021, with an additional $284 billion approved by congress. Visit the SBA Website for more information regarding the PPP, including how to apply.
Quick Links
We have entered strange and uncharted waters. The novel Coronavirus (COVID-19) is now the new norm in our everyday lives. The reach of this global pandemic is widespread, touching nearly every country and industry—pet care is no exception. While this disruption is only temporary, it's still going to have an impact on global society and business for the next several months. To hopefully ease a little uncertainty, we have put together some resources for pet sitters and dog walkers relating to COVID-19 and how it affects your business.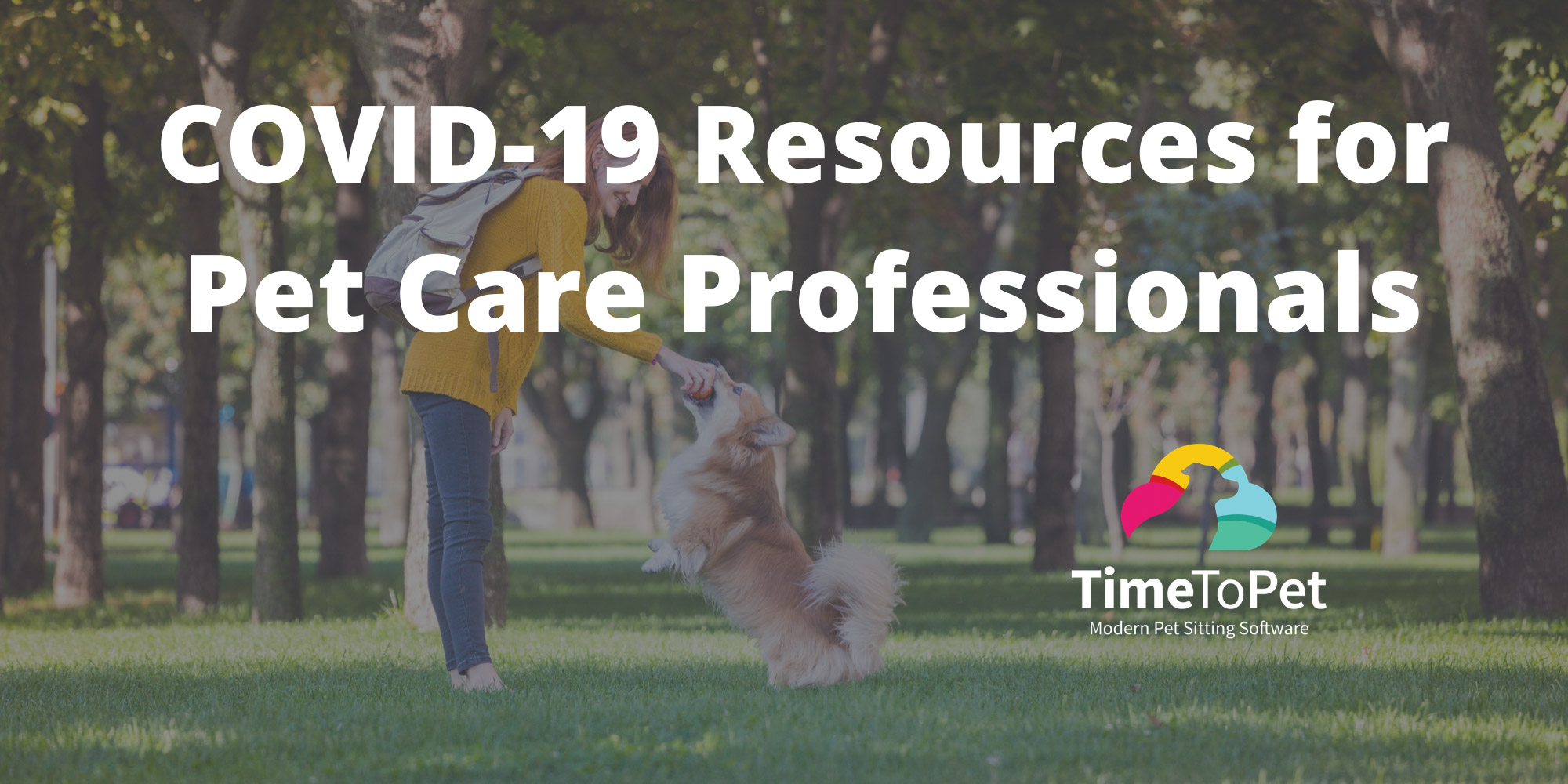 Pets and the Coronavirus
Updated: As of right now, April 24th, there are only two instances of pets being infected with the Coronavirus. The first positive test for an animal in the US was for a tiger at the New York City Zoo. Since then, two pet cats in New York have also tested positive. The CDC hasn't received any reports of dogs in the United States testing positive for carrying or transmitting the Coronavirus. According to Nature.com and the CDC, the risk for pets becoming infected or spreading the Coronavirus is very low. That said, it is still a good idea to practice extra caution when taking care of animals, whether for a client or in your own home.
Here are the recommendations for pet care from the CDC:
Until we learn more about how this virus affects animals, treat pets as you would other human family members to protect them from a possible infection.

Do not let pets interact with people or other animals outside the household.
Keep cats indoors when possible to prevent them from interacting with other animals or people.
Walk dogs on a leash, maintaining at least 6 feet (2 meters) from other people and animals.
Avoid dog parks or public places where a large number of people and dogs gather.
If you, a family member, or a client has tested positive for COVID-19, or if showing symptoms, it's best to limit contact with pets, and have some else help out.
We will keep this post updated as more information becomes available. You can click here to visit the CDC's webpage for COVID-19 and Animals.
—————
As of right now, March 24th, there is no evidence that pets can contract or transmit the coronavirus. Here is a quote from the American Veterinary Medical Association:
Infectious disease experts and multiple international and domestic human and animal health organizations agree there is no evidence at this point to indicate that pets become ill with COVID-19 or that they spread it to other animals, including people.
The World Health Organization has, so far, confirmed this as well. If you are not experiencing any symptoms, it's entirely okay to interact and handle pets as you usually would. Should any symptoms appear, or if you test positive for COVID-19, it's best to err on the side of caution. Here is another quote from the AVMA:
Out of an abundance of caution, it is recommended that those ill with COVID-19 limit contact with animals until more information is known about the virus. Have another member of your household take care of walking, feeding, and playing with your pet. If you have a service animal or you must care for your pet, then wear a facemask; don't share food, kiss, or hug them; and wash your hands before and after any contact with them.
Additional resources for humans and pets regarding health and safety for COVID-19:
US CDC information on the Coronavirus in China
US CDC Information for Animals and COVID-19
UK Public Health Department Guidelines
World Health Organization on COVID-19
World Health Organization Advice
ASPCA on Keeping Your Pets Safe During COVID-19
Definitely Not Business as Usual
Once you have taken precautions to make sure that you and your loved ones are safe, you will likely have extra time to think about your dog walking and pet sitting company. If you've noticed that business has slowed a bit, or a lot, you are not alone. With many countries and cities enacting some form of shelter in place, many people are finding themselves furloughed or working from home. This leaves a lesser need for pet care. That said, even if your city does have some form of lockdown, pet care is often included as an essential service. Check with your local government resources to make sure. If you do plan to continue working with clients, take every precaution possible to keep your employees safe. It's also important to abide by social distancing and CDC Recommendations when caring for pets and interacting with clients. For more information on creating a safe workplace and your legal obligations as an employer, visit the OSHA page regarding COVID-19.
If you have any additional pet-related questions, don't hesitate to contact your local veterinarian—most will remain open as they are essential services.
Business Related Resources
There is economic turmoil right now as people try to figure out how long the current circumstances will last. This is especially true for employers and small business owners. With this in mind, we have found and created resources that might help as we all try to navigate this situation together.
Your Guide to the CARES Act
Update: The $2.2 trillion CARES Act was passed by the House, Senate, and President, with $349 billion going towards a lending program for small businesses. So who is eligible for this program, and what assistance does it provide? What does the CARES Act mean for pet sitters and dog walkers?
The Coronavirus Aid, Relief, and Economic Security (CARES) Act is wide-reaching with monetary assistance for individuals, businesses, hospitals, and government institutions. For a full breakdown of the CARES Act, you can click this link for NPR's article on What's Inside The Senate's $2 Trillion Coronavirus Aid Package. Along with unemployment help for employees, there is a lot included in the aid package to assist small business owners and employers.
For small businesses with less than 500 employees, the CARES Act offers emergency grants, forgivable loans, relief for existing loans, free business counseling, and the Paycheck Protection Program (PPP). All of these offerings are intended to help keep small businesses afloat through the uncertainty of the current Coronavirus pandemic. Many individuals and companies will likely be applying for this limited aid, so the sooner you apply, the better.
Click here to apply for a COVID-19 Economic Injury Disaster Loan
CARES Act for Pet Sitters and Dog Walkers
Like most other service-based businesses, the pet care industry is feeling the impact of the Coronavirus pandemic. These are unquestionably strange times, but they will eventually pass, and lots of pets will need a lot of compassionate and professional care. It's essential right now to take care of yourself and loved ones the best you can so that you can help others in need when the time is right. Please use the resources above to see if one of these programs might be right for your business and employees. We will keep this COVID-19 Resource Page up to date with the latest relevant information for pet sitters and dog walkers, so check back if you have additional questions.
Additional Resources:
More on Paycheck Protection Program
—————
Update: On April 24th, the Paycheck Protection Program and Health Care Enhancement Act was passed. The new legislation replenishes the PPP and EIDL Programs with $320 billion for small business relief. Starting on Monday, April 27th, local lenders will start processing loan applications for the PPP again. If you have already applied for the PPP, it is a good idea to check with your bank to find out what your application status is. IF you haven't applied yet and are planning to, it would be a good idea to start the process. Funds for the PPP and EIDL Programs are in high demand, so they will likely be depleted again quickly.
Resources for the PPP and EIDL Programs:
SBA Coronavirus Relief for Small Businesses
New Funds Are Available for PPP and EIDL Loans. Here's What You Need to Know from Gusto
—————
Update: On Thursday, April 16th, the U.S. Small Business Administration announced that after processing over 1.6 million PPP applications, it had exhausted the initial $349 billion allotted to small businesses through the CARES Act. At this time, they have put a freeze on accepting new applications. The SBA said that it had "processed more than 14 years' worth of loans in just the past 14 days." With millions of loan applications still waiting to be processed, it's clear that there is absolutely a need to replenish the PPP. Congress is working on allocating another $250 billion to the PPP. This will more than likely happen soon, but here are a few additional options for small businesses while the government works on getting more funding into the PPP:
SBA Express Bridge Loans — These loans are only for companies that have a relationship with an SBA Lender. They are meant to supplement the Disaster Loans and bridge the gap while small businesses wait to receive their EIDL. The Express Bridge Loans can provide up to $25,000 with a quick turnaround time. The loan is "exclusively to support the survival and/or reopening of your small business." For more information and to see if you qualify, visit the SBA Express Bridge Loans webpage.
SBA Express Loans and regular 7(a) Loans. These are loan options that existed before the current COVID-19 circumstances. They come with more traditional lending terms and need to be processed through authorized lenders.
Main Street Lending Program — The full details for this program have not yet been released, and it will most likely be for mid-sized companies. The benefit, however, is that it should take some additional pressure off the PPP, allowing more room for smaller businesses and sole proprietors.
Economic Injury Disaster Loans (EIDL), Emergency Grants, and Small Business Debt Relief Program — As of Friday, April 17th, the SBA is not accepting new applications, but that may change when more funding becomes available
Speak with your accountant and banker if you have one. If not, you can Find Local SBA Assistance through this site
We will keep updating this resource page with more information as it becomes available. It's important to note that even when the PPP is replenished, it will still operate on a first come first serve basis, so it's a good idea to speak with your bank or lender now if you plan to apply or are already in the application process.
More Resources:
Information on SBA Express Loans from Gusto
Federal Reserve COVID-19 Resources
—————
On April 3rd, the SBA started rolling out the Paycheck Protection Program (PPP). The PPP is a loan that is made to qualified businesses with fewer than 500 employers for the purpose of keeping their workers on payroll and avoiding layoffs. It allows banks and SBA lenders to provide loans in the amount of 2.5 times a businesses average monthly operating payroll costs, or $10 million, whichever is lesser. The PPP is meant to cover payroll costs, mortgages, rent, utilities, and health insurance premiums. You can apply for the PPP between now and June 30th, 2020.
Many businesses will likely apply for the PPP, so if you plan on participating, it's best to do so immediately. Make sure to do your research!
Paycheck Protection Program Borrower Application Form — download a PDF version of the form the SBA and start working on your application now.
Quick facts about the PPP
Designed as an incentive for small businesses to keep employees on the payroll
Application available until June 30th, 2020
Contractors and self-employed persons can start applying on April 10th, 2020
The loan covers payroll costs, mortgages, rent, utilities, and health insurance premiums
The maximum amount that can be borrowed is 2.5x average monthly payroll costs or $10 million, whichever is less
Loan payments will be deferred for six months for qualified businesses that have been negatively affected by COVID-19
Loans can be fully forgiven if SBA requirements are met
PPP Loan Forgiveness
To be eligible for loan forgiveness, you will need to meet all the requirements set by the SBA and apply for loan forgiveness with your lender.
According to the SBA Website:
"The loan will be fully forgiven if the funds are used for payroll costs, interest on mortgages, rent, and utilities (due to likely high subscription, at least 75% of the forgiven amount must have been used for payroll). Loan payments will also be deferred for six months. No collateral or personal guarantees are required. Neither the government nor lenders will charge small businesses any fees."
"Forgiveness is based on the employer maintaining or quickly rehiring employees and maintaining salary levels. Forgiveness will be reduced if full-time headcount declines, or if salaries and wages decrease."
"This loan has a maturity of 2 years and an interest rate of 1%."
To apply for loan forgiveness with your lender, you will need detailed documentation and proof of payment for all employees and expenses. Check with your lender for specific requirements.
PPP Additional Resources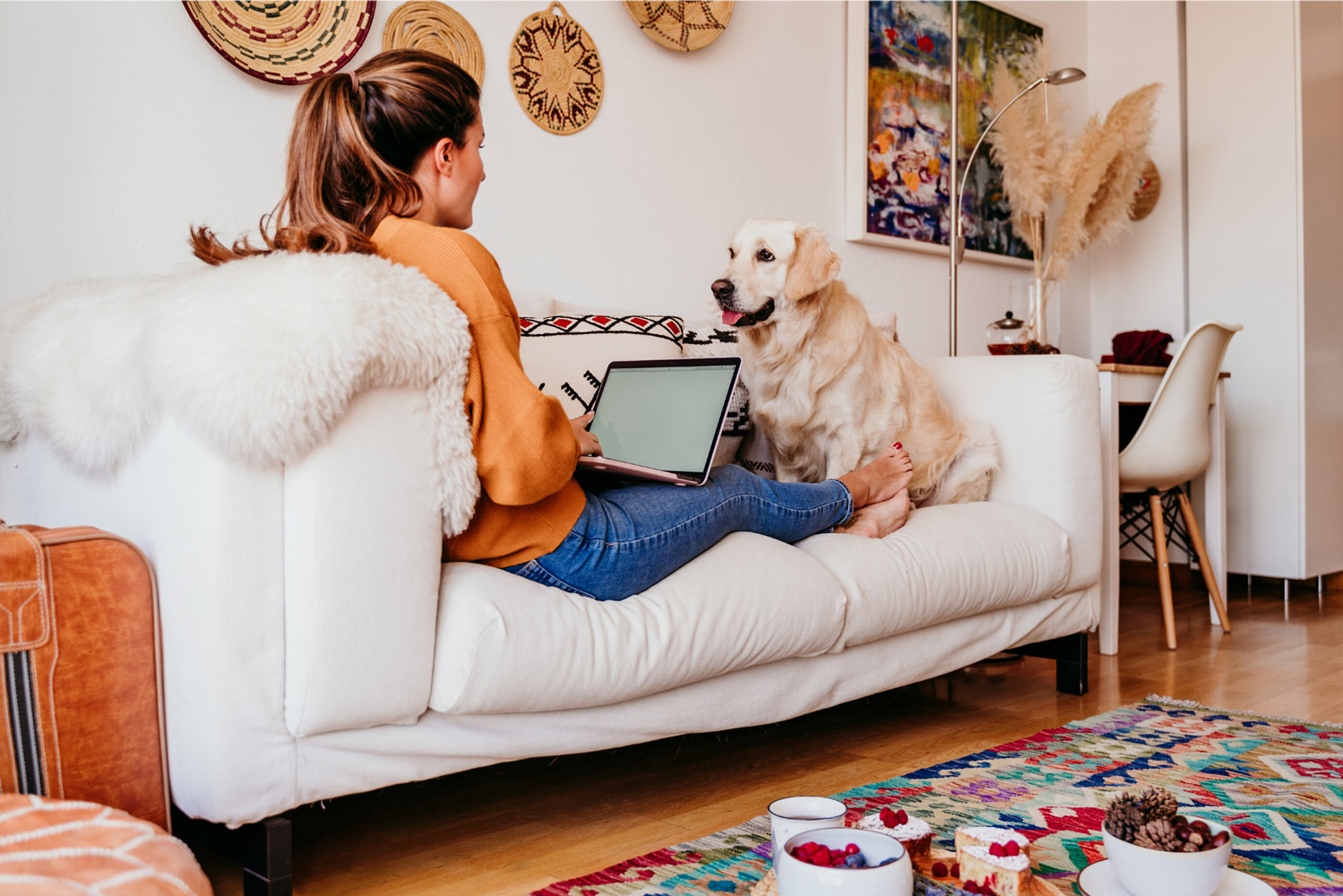 Working on Your Business and Maintaining Customer Relationships
While it's never fun seeing business slowdown, especially while people around the world are experiencing hardships, there are still things you can do to work on improving your business and maintaining positive relationships with your clients. For ideas on how to stay productive, check out our blog post on What to do with Extra Downtime in Your Pet Sitting and Dog Walking Business. We tried to come up with some ideas on how to use the extra time to ensure things run smoothly when you are up and running at full speed again.
This is also a great time to continue nurturing strong relationships with your clients. While they might not be using your service as much right now, they will again when the COVID-19 pandemic settles down. Many of them would be more than happy to help support you during this slow period by paying in advance for future services on a gift card. Time To Pet has created a new feature that allows your customers to buy a gift card directly through the app and have it appear on their account. Take a look at our help article for setting up the Gift Card Feature. Definitely advertise this new feature on your website, Facebook, and Instagram!
For some other ideas on how to keep solid relationships with your customers, take a look at Straitscope's article, 34 Ways for Businesses to Preserve Relationships During Coronavirus (or Other Pandemic).
—————
Update 4/21: Time To Pet has released new COVID-19 related features and resources including, Gift Cards, Cancelled Visits Report, and an extension of our Free Trial to 45 Days.
Take a look at our new blog post for a full description of the Gift Cards and Cancelled Visits Report features.
Stay Healthy and Take Care of Yourself
A lot is going on in the world. Still, spending all day watching the news, probably isn't the best thing for your productivity and sanity. At times with lots of external stressors that are out of your control, it can be very beneficial to spend some extra time focusing on your physical and mental wellbeing. That could mean meditating, going for a relaxing walk, reading that novel you've been meaning to start, or cooking delicious, home-cooked meals. Use this extra time to take a breath and appreciate the small things that make you happy!
Here are a few additional resources for staying healthy and productive: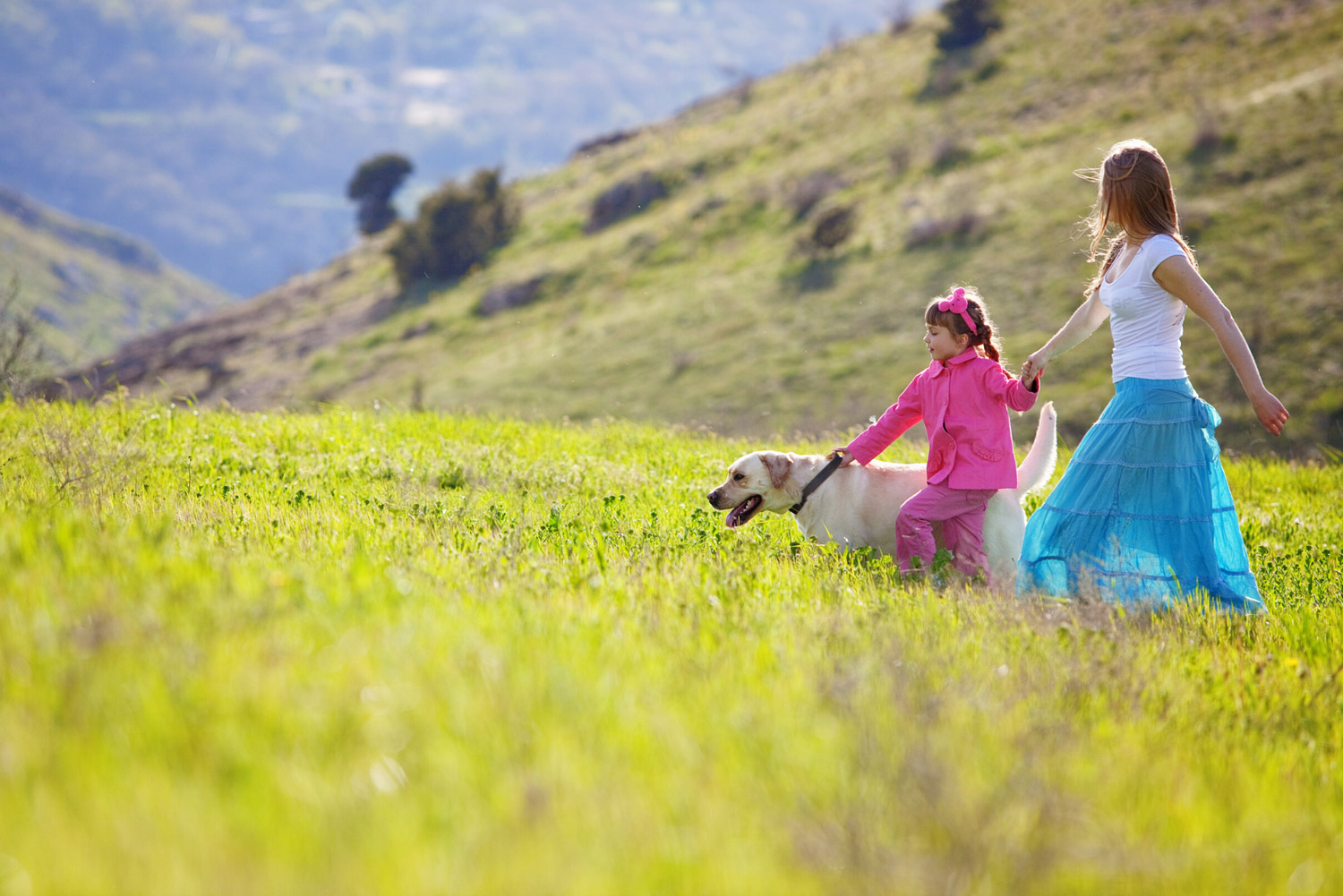 Getting Back to Work
We've just posted a new blog post with lots of information on how to start ramping your business back up safely. This Post also includes ideas for a safety checklist, an email template to send to your clients, and other helpful tools that Time To Pet has created for dog walkers and pet sitters.
A Guide to Help Pet Sitters and Dog Walkers Get Back to Business
Getting your business back up and running will be different for everyone depending on the location and type of services it offers. Some states and cities have mandatory safe workplace rules and COVID-19 safety procedures. Check with your local government's website to make sure you are following all of their guidelines for safely getting back to work.
For more information about staying safe, take a look at these additional resources:
Tips for Dog Walkers During the COVID-19 Pandemic from the VCA
COVID-19 Advice for the Public from the WHO
COVID-19 and Animals from the CDC
COVID-19 Health and Safety Recommendations from OSHA
We're All in This Together
Something that is always comforting in trying times is watching how people come together and rise to the occasion. Every community has examples of people going above and beyond to take care of each other. It's helpful to remember that we are not alone. We're all in this together. Use the resources above as needed and reach out to friends and family for support. Most importantly of all, give a little extra love to the pets in your life! They are probably loving all the extra time they get to spend with you!
Stay healthy and safe!