Meet & Greets for pet care, pet sitting, and dog walking services allow new clients to get to know you and your company. Learn more in our Ultimate Guide to Mastering the Meet & Greet - updated for 2023!
Mastering the meet and greet is essential for any pet care business. These meetings are often the first, and sometimes only, time a pet sitter or dog walker meets their clients in person (or virtually), so making an excellent first impression is especially important.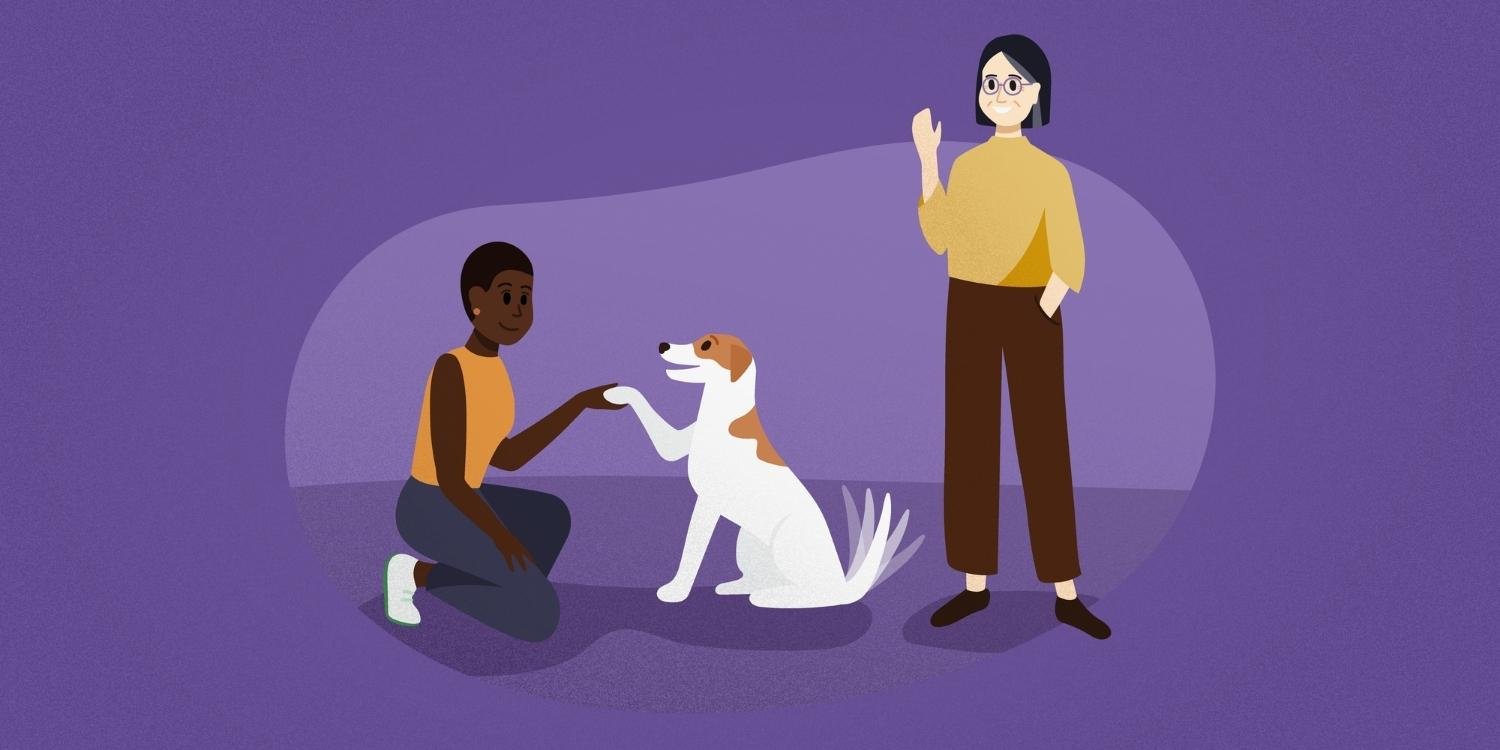 Before the Meet & Greet
Before scheduling or going to a Meet & Greet, you can do a few things that will save you time and help things go smoothly.
Decide how you will conduct your Meet & Greets
Historically, Meet & Greets occurred at your client's residence. These in-person meetings allowed your new client (and their pets) to meet you and ask any questions they had. For many pet care businesses, Covid has permanently altered their Meet & Greet process. It is not uncommon for Meet & Greets to happen virtually these days. It's important to decide how your business will conduct Meet & Greets. Will they be 100% in-person? 100% virtually? Or will you give your new pet parent client the option to choose what works best for them?
Initial Phone Call
Regardless of how you will conduct the Meet & Greet, It's a good idea first to do a phone consultation to screen all prospective clients before scheduling the Meet & Greet. This will save you time in the long run by helping to ensure that you're only scheduling Meet & Greets with prospective clients who are serious about using your pet care services and are a good fit for your company. Be sure to ask lots of questions to get a good idea of the client's needs and expectations. Also, tell the client a little about yourself and your business. Make sure they're clear on your prices, services, and the basics of how your company works.
After the initial call, it is important to have follow-up items. Some companies may want the pet parent client to complete their information (see below) or you may want to book the actual day, time, and location (in-person or virtually) at the end of your initial phone call.
Client Fills Out Forms
Having your prospective clients fill out their pet's information and sign your contract before the Meet & Greet can save you both time during the meeting. It can also be another indication as to whether your potential client is serious about using your services. If you use pet sitting software like Time To Pet, clients can quickly and easily fill out all this information online. If you don't have pet sitting software, consider emailing your paperwork to the client beforehand. Once the client has completed everything and you've reviewed it, you can contact the client to schedule the Meet & Greet.

What to Bring to the Meet & Greet
Depending on how your business operates, these things may be helpful to bring with you on Meet & Greets. Again, if your Meet & Greets are happening virtually, this may look a bit different:
Print-out of Client/Pet Information - If you had your client fill out forms online, you can print them out and bring them to review with the client during the Meet & Greet. Review the paperwork beforehand and make notes or highlight things you'd like to ask the client for more details about. If your Meet & Greet is virtual, you may want to share your screen to review this information.

Forms/Contract - If you didn't have your client fill out everything online, bring your paper forms or contract. Here is more information on how to create a contract.

Pen & Paper or Some Way to Take Notes - You'll want to take notes during the Meet & Greet as you may learn additional details about the pets or instructions. Using custom fields in your pet sitting software is an excellent tool for this.

Key Tags - If you'll be collecting keys to keep on file, bring along some key tags so you can immediately label the keys. Find out more about key management here. If your Meet & Greet happens virtually, remember that you will have to schedule a time to pick up a key if a key is required for this customer.

Treats - Most pets love treats and will warm up to you more quickly if you have some. As long as the pets don't have any dietary restrictions or issues with food aggression, bring some treats to give them.

Business Cards - Bring a few business cards. The client may want some for their friends and one for themselves.

Presentation Book - This is a collection of materials to show and tell the client about your company. Common things pet sitters include are information about services and prices, professional membership certificates, insurance certificates, pet first aid or other training certificates, policies, testimonials, and photos of themselves or their sitters caring for pets – basically, anything to help familiarize the client with your business and demonstrates your professionalism. You can put all these items into a three-ring binder that you take with you on Meet & Greets.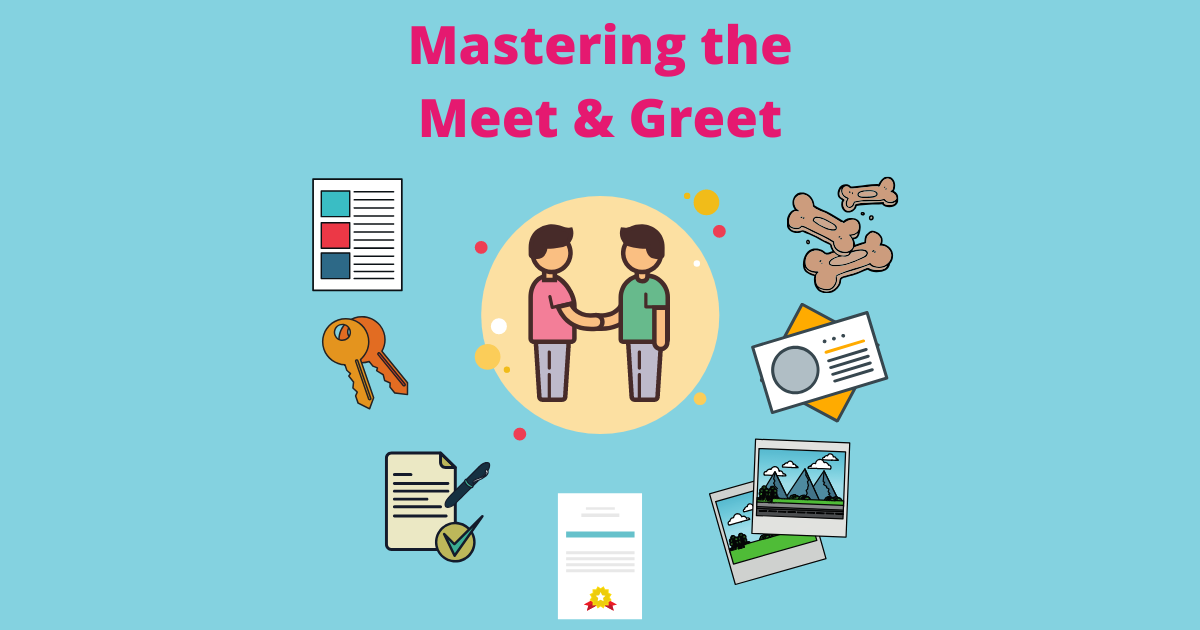 Steps to a Great Meet & Greet
Before the Meet & Greet even happens, confirming the day/time beforehand is incredibly helpful. We've all been in situations where you arrive for a Meet & Greet and the prospective client had their days mixed up.
1. Look Professional
You'll want to present a clean and professional appearance to new clients. Wear a shirt with your company's logo on it if you have one. Also, you never know what kind of messes you'll encounter while caring for pets, so if you are doing Meet & Greets after pet sitting visits, be sure to have an extra set of clean clothes with you just in case.
2. Arrive on Time
Being on time for the Meet & Greet demonstrates that you're reliable to the client. Allow yourself plenty of extra time to get there if you run into traffic or have trouble finding the client's house. And if you do find yourself running late, call the client to let them know and apologize for it.
3. Greet the Client and Their Pets
In households with friendly pets, they will likely be at the door to greet you as the client opens it. It gives clients peace of mind to know that their sitter loves their pets, so bend or kneel down and greet the pets enthusiastically, maybe even before greeting the client.
For more reserved pets, please don't force yourself on them. Tell the client you'll give the pet its space and let it come to you when it's ready.
Pet owners love to hear compliments about their pets, so be sure to mention how good-looking, well-behaved, etc., their pet is.
4. Review Information and Instructions
After introducing yourself to the client and their pets, it's a good time to sit down with the client and verbally review the information and instructions they submitted online (or if you didn't have them fill this out ahead of time, you could give them the forms to fill out now). Get out a paper and pen because the client might tell you some additional details that you'll want to make a note of. Ask questions as necessary so that you clearly understand exactly what the pet's needs are and what the client expects for each visit.
5. Show and Tell About Your Company
Once the client has told you everything you need to know about the pets and their care, it's time to tell them about yourself and your company. This is where a presentation book can come in handy. Turn the book towards the client and briefly discuss what's on each page. If you don't have a presentation book, prepare some talking points about who you are and how your company operates.
Pet parents love to hear your story on why you started your business. If you haven't told your story yet, practice with some friends and family members so you can really explain why you love what you do.
Reviewing at least some of your policies with the client is also a good idea. They may have already signed your contract, but they might not have actually read any of it or only skimmed through it. You don't have to review the entire contract with them necessarily, but you'll want to highlight your most important policies, like scheduling, cancellations, payment, inclement weather, and visitors in their home while they're away.
6. Do a Home Walk-Through
Ask the client to take you on a tour of their home to show you where all the pet supplies are located, like food, leashes, litter boxes, crates, etc. Also, find out where they keep cleaning supplies and what trash can to use for pet waste. And if you are doing overnights, find out where the client wants you to sleep. Bring your pen and paper along with you and continue to take notes while the client shows you where everything is.
7. Test the Keys
Whether you're going to be keeping the client's keys on file or using a lockbox, always test all keys at the Meet & Greet to make sure they work. If you are keeping the keys on file, tag them immediately so you remember who they belong to. If the client is using a lockbox, ensure it's already set up so you'll know the location. Test the lockbox as well to make sure the combination works.
8. Closing
Before you leave, be sure you've addressed all of the client's questions and concerns. Also, let them know what the next steps are. For example, if they need to go online and book, make a payment, etc.
Say goodbye to the pets and the client when you leave, and let the pets know that you are looking forward to seeing them soon.
9. Update the Client and Pet Information
As soon as possible after the Meet & Greet, update the client and pet information you have on file with any new information from your notes. Include as much detail as possible so that you do not have to rely on your memory when doing the visits and so that if a backup sitter ever needs to do the visits, they'll know exactly what to do.
10. Follow Up
After the Meet & Greet, send the client a thank you email (or, even better, a message via your pet sitting software) telling them how nice it was to meet them and their pets. Also, remind them of what, if any, the next steps are, and let them know that you're looking forward to caring for their pets.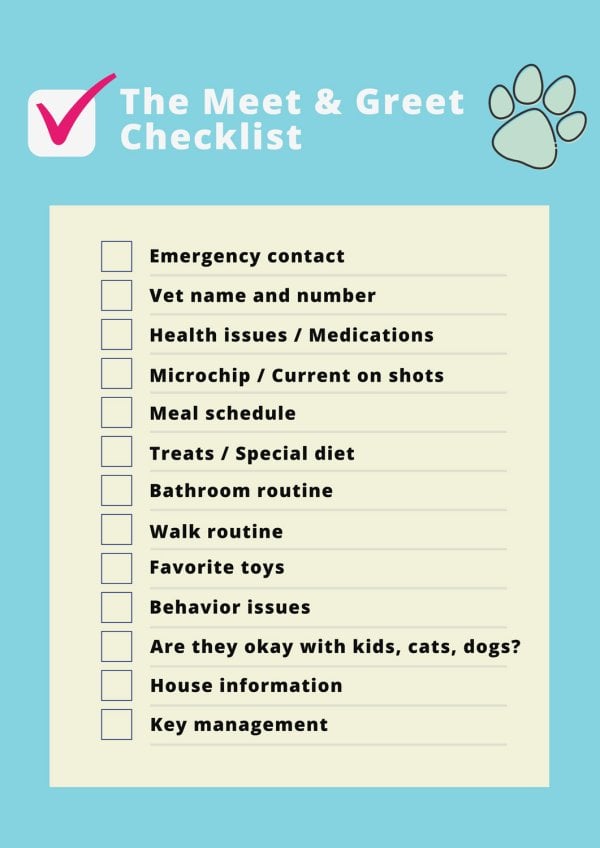 Who Should Go to the Meet & Greet?
If you're a solo pet sitter, the answer is easy – you go. But if you have a company with employees or independent contractors, you'll have to decide whether you want to do Meet & Greets yourself or have your team do them. As your business scales, you may even have a defined staff member or office manager who does all of your new client consultations.
Going to the Meet & Greet yourself lets you establish a relationship with the client as the business owner and the face of your company. It also allows you to evaluate whether the client is a good fit for your business and decide which of your staff will be best suited to care for the pets. Doing Meet & Greets yourself also saves you the expense of having to pay your team for them.
However, if you aren't the one performing pet sitting visits for the client, it can make sense to send the staff member who will be doing the events so the sitter can meet the pets and learn their routines. The client may also be more interested in meeting the person who will actually be in their home caring for their pets than they are in meeting the business owner. And while there may be the expense of paying your staff, delegating Meet & Greets to them can allow you to focus on other tasks in your business that may be a more valuable use of your time. If your business utilizes multiple staff members, it is very important to set that expectation with your new client early on.
Other options are for you and the primary sitter to do the Meet & Greet together or send two staff members. By doing this, there will be two people in your company who have met the pets and know their routines. This can also help clients understand and feel comfortable with the idea that they are hiring a team of pet sitters rather than just one person.

Should You Charge for Meet & Greets?
Many pet sitters wrestle with the decision of whether or not to charge clients a fee for the Meet & Greet. On the one hand, your time is valuable, and it makes sense that you should be compensated for it. On the other hand, having to pay to meet a pet sitter they haven't even decided to hire yet might deter some potential clients.
Pet sitters who charge for Meet & Greets often report that it deters the kind of clients they don't want – people who don't value them or are just shopping around – and that their ideal clients have no problem paying for a Meet & Greet. But charging for Meet & Greets isn't the only way to discourage non-ideal clients; by doing a phone consultation and having clients fill out information before the Meet & Greet, you should be able to avoid most problem clients whether you decide to offer your Meet & Greet as a free service or charge for it.
There are other options that are in-between charging and doing free Meet & Greets. Some pet sitters charge a fee but then credit that amount toward future services. Others don't charge for the Meet & Greet itself but charge a registration fee to clients who sign up with them. And some companies with staff offer clients a free Meet & Greet with the business owner with the option of paying an additional fee to meet with their primary sitter.
There is no one size fits all solution here, so it's most important to consider your business, your priorities, and what you feel will work best for you. You can always make changes to your process as well!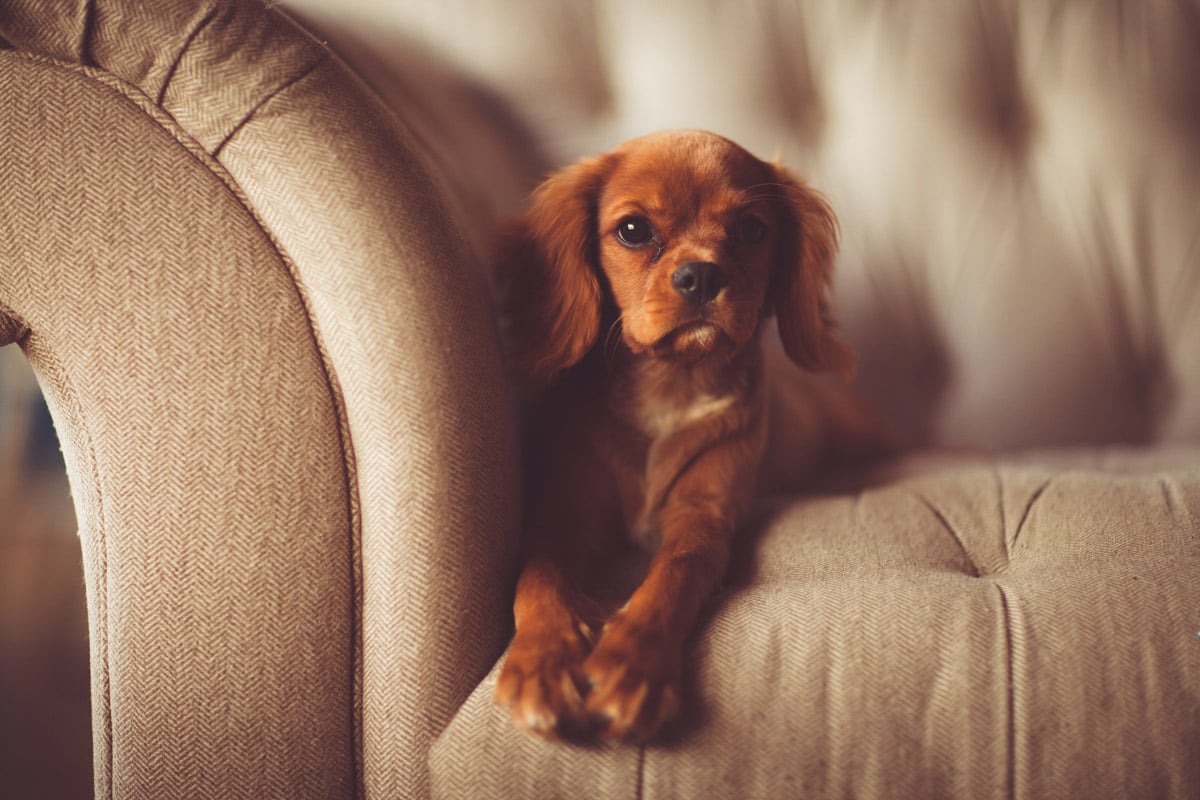 If the Client Isn't a Good Fit …
By first doing a phone consultation with all prospective clients and having them fill out the information and sign your contract, you should be able to screen out most clients who aren't a good fit for your company well before the Meet & Greet. But it is possible that a client will downplay, forget to mention, or even lie about something during the pre-screening, and then at the Meet & Greet, you discover something that makes you uncomfortable or unable to provide service to the client. Maybe their pet has severe behavioral problems, their home is unsanitary, or they want their pets cared for in a way that is unsafe or against your policies.
It can be uncomfortable telling a client that you won't be able to service them, but you can't let that deter you from doing what is right for yourself and your business. In some cases, like those involving the client's personality or the state of their home, it can be better not to give a specific reason you won't provide service and just tell the client:
"I don't feel that my company is the right fit for your needs."
But depending on what the issue is, you might also tell them why:
"Our policy is that …"
"For health and safety reasons, we don't…"
"I am not comfortable doing …"
"We don't accept pets who display _____ behavior."
Typically, it's best to tell the client as soon as you know that you can't service them so that you're not wasting your time or theirs continuing with the meeting. But if you think the client might become confrontational or you just are not comfortable telling them in person, you could do it by email after the Meet & Greet. We have an incredible Academy article with many helpful pointers on How To Say No.
Now that you have the knowledge to master the Meet & Greet, it's time to get out there and meet some pets!